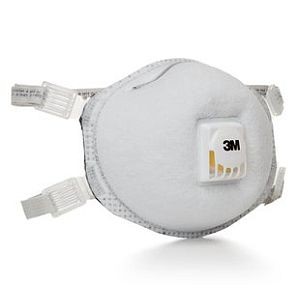 Welding is a fabrication process in which metal fumes are present. Factory workers who are involved in welding are exposed to breathing problems require respiratory protection caused by these fumes.The 3M 8512 n95 respirators are light in weight and are designed with precision to offer the best quality of respiratory protection and comfort to users. This respirator has a designed cake resistant filter which ensures a longer life span. It comes with ultramodern, electrostatically charged microfiber filter media which ensures easy breathing. The exhalation valve of these respirators will minimize heat buildup within the respirator to ensure that the wearer can breathe comfortably.
The 3M 8515 n95 respirator, on the other hand, comes with a soft inner material which will offer users with optimum comfort. Its durability will be ensured by the cup shape design that creates sufficient space. These features along with the adjustable M-nose clip and braided straps will offer users with long term durability and comfort. It is flame resistant, and the braided headbands ensure a secure fitting. It is compatible with a wide range of protective eyewear and hearing equipment.
The disposable 3M 8514 n95 respirators come with 3MTM Cool FlowTM Valve and a carbon layer. It has specifically designed for use on applications with metal fume presence. They come with soft nose foam, straps and adjustable nose clip which makes them comfortable to wear. It is flame resistant as well.
The 3M 8214 n95 particulate welding respirators have a carbon layer which ensures respiratory protection in areas with metal fume presence. They come with 3M Cool Flow Valve and foam face seal. These respirators are widely used in applications that involve metal fumes. Their carbon filter media minimizes exposure to ozone level of organic vapors.
3M 8516 n95 particulate respirators are best suited for use in the aluminum industry. They protect the user from specific types of non oil based particles. Their carbon layer minimizes exposure to nuisance level of acid gasses. These respirators come with 3M Coolflow Valve and an adjustable nose clip. The soft inner material will ensure that the wearer feels comfortable while the cup shaped design makes the respirator durable and airy. Workers can perform well only if they feel that the management is concerned with their safety and welfare. By making them familiar with the use of these respirators, you will be able to ensure that they stay safe from metal fumes during the welding process. Therefore, for the safety of your workers, use 3M n95 Respirators.