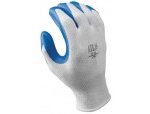 Best Cut Resistant Gloves
Hand injuries in the industrial work place were very common until the time Best cut resistant gloves were introduced as a prevention against cuts and punctures. Cut Resistant Gloves work to prevent such workplace hazards and cuts or abrasions in the work place. Safety training seminars help employees with proper work process procedures, the employees are taught the importance of adopting safety measures and PPE Hand Protection for their Job Tasks and Duties. Compromising on the glove quality can easily compromise the safety too and cause injuries and potentially fatal situations. Texas Safety Supply has a complete line of all the Best Cut Resistant Gloves.
Productivity and efficiency are the two areas that every industrial worker is expected to deliver. The things that become reasons for the downsides in the industrial productivity is the hesitation and the risk that arise from inadequate PPE hand protection. It is understandable that human are interacting with mechanical forces in any industry and the risk of injuries are definitely associated, and hand injuries are the most common workplace Injuries. Although they work but the confidence to deliver the output certainly get affected by the lack of adequate hand protection that can help prevent hand injuries. This is why several of the Best Cut resistant gloves need to be reviewed for their material, cut ratings and their properties that can prevent hand injuries.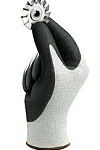 A Reasonable investment in cut resistant gloves can Reduce hand injuries. And improve the efficiency and well being of the users to perform job duties and tasks on daily basis. It also ensures that you have made your best attempt to keep them protected. Cut resistant gloves are primarily suggested as the primary PPE hand protection method because hand come in touch first with the machinery and naturally reacts to protect the body against various dangers.
Cut resistance gloves have the ability to absorb and resist cuts and punctures caused by sharp objects, and delay the time period of damage. Cut protection gloves are ranked from level 1 to level 5 with level 1 being the least cut resistant gloves rating and Level 5 with highest level of cut resistant Gloves protection. The quality to handle sharp surfaces and impacting situations goes hand in hand.
For eg. if you are engaged in heavy metal stamping, sharp glass handling and other such tasks,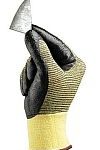 level 5 Cut resistant gloves are suggested by the PPE professionals since only these can help you prevent some hand injuries from occurring. Level 4 gloves are slightly less rigid than level 5 but are promising in their constructional approach. Industries dealing with metal sheet making, glass making and even the food services use them. As the level 3 glove stands in the middle of the list, it provides the moderate protection against light duty glass and metal handling. Level 2 gloves can mostly be seen in construction and automobile industries. Even the oil field workers rely on them for their daily tasks. Level 1 provides the least amount of protection and are far better to opt than to work with bare hands.
Cut Resistant Gloves specialists have conducted various experiments and researches and came up to the conclusion that Nylon, Polyester, Kevlar, Dyneema, TPC, polycarbonate, metal mesh and full grain leather are some of the materials that can provide an optimum resistance against the cuts and abrasions in the industrial jobs. Workplace cut proof gloves does not only provide protection against cuts and abrasions but also they are anti vibration, chemical resistant, heat and impact resistant. They are built with well refined dexterity and grip. Responsible employers are responsible to provide the proper level of hand protection based upon the tasks and hazards associated with their workplace, Texas Safety Supply has the appropriate Cut Resistance Gloves and hand protection that you will need to keep your employees safe in the work place.