In the Oil and Gas Industry, it goes without saying that Oil Rig employees must be provided the Best Oil Field Work Gloves available on the market. Texas Safety Supply carries and has in stock a Large selection of Cut Level 5 Oil Field Gloves available for purchase that will fit your needs and requirements. Including Oil Field work Gloves for all types of weather conditions including Summer Heat, Cold weather and wet weather gloves. Many Oil and Gas Safety Directors are shifting to the sole use of Cut Level 5 Oil Field Work Gloves when making their Work Glove Purchasing decisions. Texas Safety Supply has three Excellent choices for Cut Level 5 Oil Field Gloves for you to choose from. OSHA 1910.138  advises that employers must provide protection relative to the task as well as all hazards and all 'potential hazards' to the task performed. Having an adequate supply of Cut Level 5 Impact Gloves assists in this requirement by OSHA.
MX2524
The MX2524 is an all around excellent glove that provides Cut Level 5 Oil Field Impact Protection. It just plain feels good when going on your hand. This is the Old School Cotton Palm Cut Level 5 Work glove. This is the same Glove as the popular MX2515, but with an Aramid & Glasse liner to provide Level 5 Cut Resistance. TPR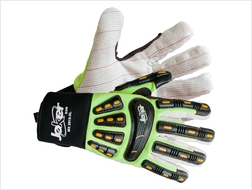 is added to the back of the Glove on the Fingers, Knuckles and carpel area for Impact Resistance and hand protection.The back of these Cut Level 5 Oil Field Gloves is a Four way stretch fabric providing comfort while lessening hand fatigue by the end of the day because it works with the user. The Cuff is made from Neoprene ensuring a solid fit while allowing the Glove to go on and off as needed. The MX2524 is available in sizes medium through 3X and available at bargain prices. Call for Volume pricing.
MX 1135
MX1135 is a Cut Level 5 Oil Field Impact Glove constructed of an HPPE blended fiber shell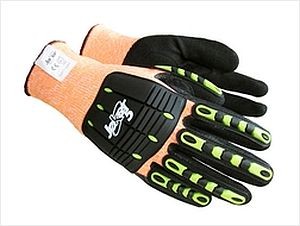 that provides excellent Impact protection. Back of the Hand TPR reinforced Oil Field Gloves for impact resistance on back of hand while providing Cut Level 5 Impact Glove Protection. The MX 1135 also has a reinforced palm padding for added protection. Reinforced thumb crotch for extra wear. High visibility orange color Impact Glove . Form fitting for excellent dexterity.
4898
This a newcomer to the Industry but a Big Hit already. A Kevlar Lined ANSI Cut Level 5 Oil Field Impact Cut Protection Glove. This is a drivers glove with the comfort of the Cow Grain Leather that makes it the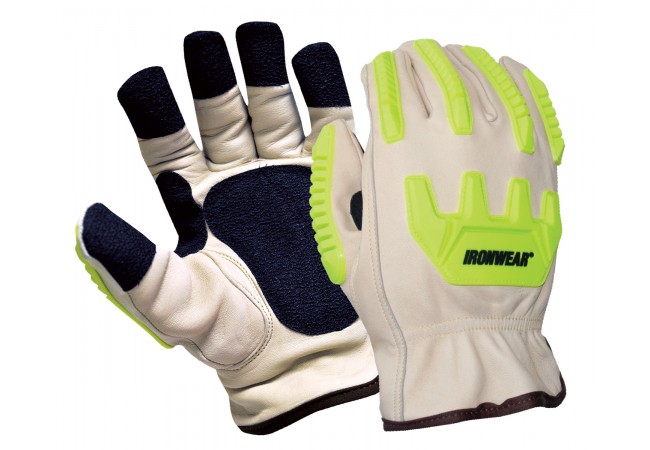 perfect glove to wear all day, while at the same time providing top of the Line hand Protection with it's Cut Level 5 Impact Protection for the Hands. Kevlar Lined, Keystone thumb. Please call for pricing.
Providing Cut Level 5 Oil Field Impact Gloves is a wise choice in any Safety Process and Accident prevention plan. Providing the Best Safety Products and Equipment is the First Step in any Safety Process. Texas Safety Supply helps in reducing costs and expenses by Providing the Best Products available at the Best prices available. If we can help with Cut Level 5 Impact Gloves or any of your Safety Needs please let us know.