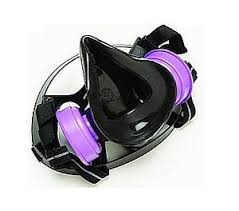 Are you into the petrochemical business? In case you do, then your workers are likely to be exposed to different types of hazardous chemicals and gases almost on a regular basis. Occasionally, the leakage of harmful gases within your factory can cause suffocation to your workers and raise questions about their safety and welfare. To mitigate the problem, you need to provide them with the latest range of respiratory safety equipments. Some of them are mentioned below:-
North Full Face Respirator Replacement Polycarbonate Lens
Manufactured in an ISO 9001 registered facility, you can use it to replace worn parts, thereby ensuring a proper fit and ensuring optimum protection to the wearer.It is ideal for use with North 5400 item 20793 or 7600 item 14618 series full face respirators.
North Full Face & Half Mask Respirator Replacement Inhalation Valves, 6/Pack
These valves provide optimum protection against particulates. It is best suited for application with North® 5400 item# 20793 or 7600 item# 14618 Series full face respirators. Manufactured with meticulous precision adhering to the existing standards in the industry, it can also be used with 5500 item# 5540 and 7700 item# 7700 Series half mask respirators.
North Full Face Respirator Replacement Lens Clamp Nuts
Vital for keeping full face respirators in the best working condition, these clamp nuts are compatible with North ® 5400 item# 20793 or 7600 item# 14618 Series full face respirators.
North Full Face Welding Respirator Flame Retardant Fabric Hood
The hood offers additional coverage while workers use welding respirators. It is lightweight, flame retardant and can resist spatter and hot sparks. The product has been crafted with precision and comes with a high durability.
North Primair ™ PAPR Respirator Loose Fitting Head Cover
The lightweight material of the head cover makes it suitable for long term use in particulate environments. It comes with a ratchet mechanism that ensures quick and easy on and off while the adjustable headgear provides a more comfortable fit. The head cover comes with sweatband wicks that draw the moisture away, making the wearer feel at home. Approved by NIOSH, it is ideal for use in pharmaceutical applications. Its universal size will fit most users.