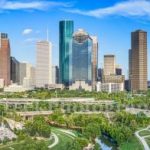 Safe Food handling is critically important to food processors and manufactures in Dallas Texas as new and improved products become available. Texas Safety Supply see several trends in regards to food handling by food processors and manufacturers. Three key safe products lead the way.
Food Handling Aprons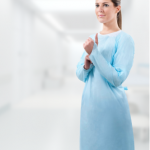 A lightweight 4 mil apron made by Tronex Company is being used by many of our food processors in Texas. This Blue Apron is light weight protection option. This blue apron is easy on and easy off. A really nice feature for food processors in the Texas summers is that the material does not hold the heat in. This makes it easier for food processing employees in Texas to work in a little bit better conditions. The sleeves all have a thumb loop. When the thumb loop is used and food handling gloves are applied on top of the apron the arms are not exposed. Some food handling aprons expose the arms causing potential contamination and waste. Texas Safety Supply is seeing a shift in the state of Texas with our food processing customers to the Tronex 6800 4 mil disposable apron.
6 Mil Powder Free Nitrile Gloves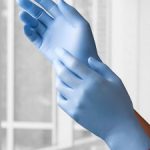 The second shift we are seeing for food processing companies in the state of Texas is to an improved Powder Free Nitrile glove. Keeping expenses in check is important to business survival and Texas Safety Supply has some excellent discount prices on Powder free nitrile gloves. Food manufacturers and food processors in DFW and the whole state of Texas are moving to a 6 Mil Powder Free Nitrile glove. Previously many food manufacturers in Texas would use a 4 mil powder free Nitrile Glove. Texas Safety Supply has premium 6 mil powder free nitrile gloves available at better prices than other Glove suppliers have on a 4 Mil glove. The Correct Safety Supply company in Texas is Texas born and bread, Texas Safety Supply.
We highly recommend the Tronex Company's Powder Free Nitrile Gloves. Tronex PF Nitrile Gloves meet all the requirements of the FDA and the State of Texas for Food handling. The 9010 is the most purchased Nitrile Glove that we sell to our Food processors and food manufacturers in the state of Texas. The 9010 is a 6 mil Powder free Glove that is sold by the case of 1000.
A second Powder free nitrile glove we recommend for food processors is the 9662 by Tronex Company. The 9662 is an 8 mil powder free FDA approved Nitrile glove approved for safe food handling. At the increased 8 mil, it makes this glove even tougher to rip or puncture.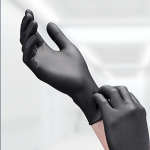 A Third Powder Free Nitrile Glove used by Food manufactures is the 9047 Powder Free Nitrile Glove. A safety supply company should have a lot of variety in it's safety supplies that it offers to it's customers. Every customer is going to be a bit different and products are needed to fit each companies safety Supply needs. The 9047 is a Powder Free Black nitrile with 6 mil thickness. Many food processors in Texas prefer to have two different colored gloves for different work stations to eliminate potential contamination.
Full Face Hair Net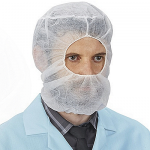 A third trend that we see at Texas Safety Supply is the Full Face hair Net. Food processors and food manufacturers are moving to the all and one hooded hair net. The one piece unit provides full coverage from hair loss from both the top of the head and beards. The full face hair net eliminates the need for the beard net.
Food manufacturers and Food processing companies are clearly shifting to higher quality products that can ensure compliance and the quality of their products. Contact Texas Safety Supply so we can help you too!