Texas Safety Supply has a nice supply of the FR Rain suits and FR Rain gear that you need in the Oil and Gas Business. We have Volume Pricing Models and Wholesale pricing available on FR Clothing items and FR Rain Suits. Call us for a quote today.
Top Selling FR Rain Suits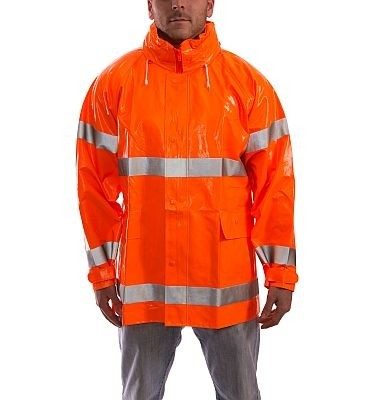 Tingley FR Rain suits are our top selling FR rain suit. These FR rain suits and FR Rain jackets are nice to wear because they are a lightweight FR rain jacket that is still durable, tough and economically priced. The lightweight FR jacket makes it just right so it dosn't get to warm, keeping all the body heat inside the FR Rain Suit. The Tingley Rain Suit is a breathable FR rain suit. This makes it easy to wear. This is a FR rain jacket and FR rain suit that is ANSI 107 CLass 3 Type R Protection.
High visibility 2 Inch reflective tape makes for hi vis appearance both in light and low light conditions. The back of the FR rain jacket has is full comfortable cut back. No problems moving around and getting the job done in this FR jacket. The seams are reinforced and this FR rain suit is 100% Water proof. Storm fly front seals for the zippers on top of the Non conductive hardware.
The Sleeves of this FR Rain suit like the ankles have "Take-up" snaps with added velcro to adjust for the best fit. The material is Mildew resistant, Not everybody takes care of their FR Rain gear and FR rain suits like they should. If they don't, know that this material is high quality and mildew resistant.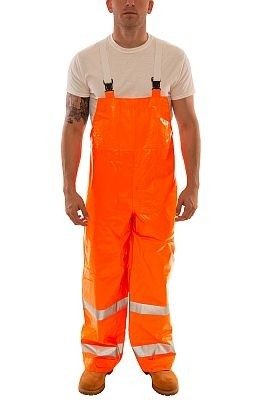 The back of the FR Rain jacket has a vent for a pass through D-Ring. Not all FR rain jackets offer this. It's a nice and convenient feature to have when needed.
Big pockets.
SElf extinguishing with flame out after glow less or equal to two seconds after removal of the ignition source and char length less than 6 inches. ( Test method ASTM D6413.)