FR Shirts for Summer are needed when the temperature gauge rises, and that temperature gauge is rising now. Texas Safety Supply has some superb options that are going to keep your employees needing FR Gear as comfortable as possible in the summer time heat. Heavy duty FR shirts are nice in the Fall and Winter but not too good for Summer, Summer time heat requires FR Shirts for Summer and Texas Safety Supply has some great options.
Summer time FR T-Shirt
The Portwest FR 01 is a great option for hot temperatures. These FR Shirts for Summer is made from 100 % Cotton. This FR01 Summer Fr Shirt is available in Navy Blue, Grey and Khaki. This is a comfortable shirt to wear anytime not just when at work. An ATPV rating of 12 Cal/cm2 exceeding the requirements for ARC2 clothing. ASTM F1959 / F1959M-12. A moisture wicking lightweight cotton that makes it the perfect FR Shirt for Summer.
FR Shirt for Summer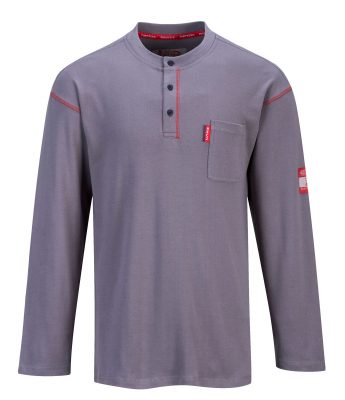 The Portwest FR02 is our top selling FR Shirt year round. This FR Shirt is a beauty and great for year round use not just when you need FR Shirts for Summer. The FR 02 is a henley style shirt meaning the look and feel of a t-shirt but with the added breath ability feature of the open style neck. The fabric conforms to NFPA 2112 with ratings the Portwest FR01 Summer FR Shirt. Moisture wicking, lightweight and 100% cotton makes it a superb choice for oilfield clothing.
Oilfield Clothing Supply
At Texas Safety Supply, our Oilfield Clothing Supply options are growing and growing. We have Flame resistant shirts for all year round. Texas Safety Supply has a large selection of FR Jackets to fill your Flame resistant clothing needs. Need a Flame resistant Uniform? We have got you covered. Our FR Coveralls and Flame resistant coveralls are priced super economically and we offer a Superb Logo service for all of your Oilfield FR Clothing.