FR Winter Clothing and FR Rain Gear needs to be ready to go come out when Fall Arrives. Texas Safety Supply has the FR Winter Clothing and the FR Rain Gear needed by the folks working in the Oil and Gas Business where FR Clothing and FR Rain Jackets are required. FR Rain Jackets need to have reinforced at the seams to keep the Rain out. All Employees should be warm and dry to remain efficient at their job.
Portwest FR Rain Jackets
The Portwest US773 BizFlame FR Bomber Jacket is a favorite of many Oil Field Service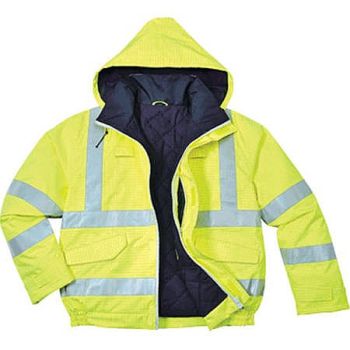 Companies. The US773 Bomber Jacket is a Hi Vis FR Bomber Jacket. A Class 3 ANSI 107-2015 Type R Flame Resistant Waterproof FR Winter Jacket. The beauty of this FR Treated jacket is that it is a fully lined and insulated FR jacket. Perfect for so many jobs. Lots of pockets with side flaps.
The Hood of this FR rain jacket can be fully deployed or packed away neatly in the collar. So, this really is a quality FR jacket. We at Texas Safety Supply are a huge supplier of FR Oilfield clothing. When temperatures go south this is a great jacket to have at your side for every day wear.
Add the Portwest S771 for a complete set of FR Winter Clothing. Lined & warm FR Bib pants.
FR Winter Oilfield Clothing
The Portwest S783 FR Insulated bomber jacket paired with the matching FR Rain pants are a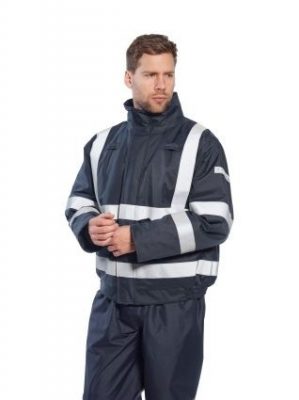 welcome addition when the temps are wet and cold. These two Portwest items make for a good combo of FR winter Oilfield Clothing. This is an EN343 Class 3 treated FR rain Jacket. The reflective tape for great visibility. The jacket is a fully insulated FR treated waterproof fabric. A water proof FR rain suit is a must have for wet cold Midland Texas and Odessa Texas winter days. FR Winter Clothing is needed to keep employees dry and safe.
The Portwest S771 FR Bib pants are easy on and easy off with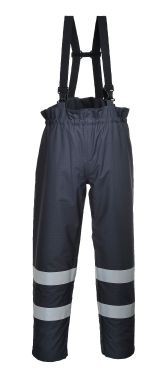 the side leg zippers. Tough, durable zippers that are gonna last. This Insulated Treated FR Rain suit is a great value. Do you need a discounted winter FR Clothing price. Please call us for volume quotes. We are happy to see what we can do.
FR Winter Clothing and FR Rain Suits
The Portwest FR41 and the FR43 make a dry combo when you need FR Winter Rain gear. These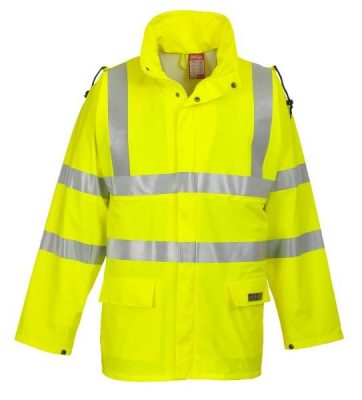 two FR Winter Clothing Items are Treated FR for flame resistance. The weight of this FR Rain gear is 7.5 oz. Not to hot, not too cold. Just right. Class 3 FR Clothing with Reflective tape. a waterproof rain suit with welded seams for added durability. Meets ANSI ISEA 107 standards.
Texas Safety Supply has a large selection of FR winter clothing. Call us for pricing.