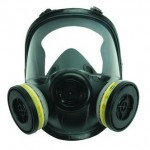 Workers operating in the petrochemical industry are exposed to a harsh working environment on a daily basis. If you are the owner of a company that is operating in the petrochemical industry, then you are likely to have a clear idea about working conditions in which your staff works on a regular basis. To ensure that they are safe in the case of any gas leakage within the factory, you will need to ensure that they are provided with full face respirators. Here are some of the top brands of respirators that you can opt for to ensure their safety:-
North Safety 5400 Full Face Respirator
The North Safety 5400 Full Face Respirator provides full face breathing protection. It comes with a snug fit that provides optimum comfort to the wearer over a long span of time. It can be worn over an extended period and is soft. One major plus point of this respirator is that it comes with interchangeable parts that can be replaced, thus minimizing replacement costs.
Its various parts like head straps, valves, gaskets and nasal cups can be replaced without spending a large amount rather than buying a new respirator. They fit almost all types of faces and is a preferred option for engineers who need air filtered protection. This latex free respirator is free from rubber proteins that can cause allergic reactions. Its panoramic lens ensures optimal vision from all directions. Its polycarbonate lens also satisfies ANSI requirements for high impact.
North Safety 76008A Full Facepiece Respirator
This respirator is made from silicone and is soft, comfortable and flexible, that makes it flexible to use at any time of the day. Its center diaphragm makes it easy for the wear to speak and be audible, as and when needed. Its nose cup provides less dead air space that channels exhaled breath out, thereby making breathing easier.Its wide, panoramic lens provides a wide clear area of vision.
3M 6800 Full Face Respirator, Medium
The 3M 6800 Full Face Respirator is a preferred choice for petrochemical engineers around the world. It is easy to wear over a long time span and requires breathing protection from chemical hazards, allowing the user to be mobile while wearing the respirator. The 3 M 6900 full face respirators are available in three sizes, thereby ensuring a good fit. They have a wide angle lens allowing high-quality peripheral vision while it is in use. It is effective in filtering hazardous chemicals and is used along with 3MK Cartridges and 3 Filters.