Respirators and Masks are essential components of industry based work. The respirators are associated with the industrial exposure while masks can be used for all the dust and particle exposure. A dust mask is usually used in the environment of wood dust, concrete particles dust, construction site, fiberglass and ordinary road dust, etc. It prevents the inhalation of these dust particles and let you breathe the filtered air. Though dust masks have limitations associated, they are designed to use under specific and simple conditions only. The lungs are sensitive and filtering the dust is a complicated activity that takes place in the respiratory system. It can cause severe nasal and respiratory issues when ignored.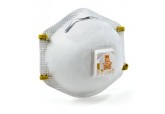 The dust mask material is usually made up of soft paper that can be tied around the head or ear. It comes in a cup shaped and strap holdings. Some advanced dust masks consist of valves and sub filters that allow a better respiration by allowing heat and humidity to escape. These masks are disposable in nature and should not be used again after single application. Doctors even suggest the dust mask to general people who do not suffer from respiratory issues.
The ( letters ) N, R and P indicate the oil degradation resistance of a particular mask type. Filtering efficiency is further measured in the percentage scale of 95, 99, or even 99.97. Dust masks associated with the n95 tag are usually light, inexpensive and comfortable to put on as compared to respirators while providing a great amount of dust protection.
A dust mask leaks for sure. It does not provide a sealed protection that the dust prevention is not completely guaranteed in masks. There is a misconception among doctors that n95 masks can be used during surgical conditions. To eliminate the germs and dust, a respirator is very much proposed. However, they are little heavy and impractical to use anytime. Respirators are available in various sizes and shapes with varying respiratory functions.
An n95 respirator has the capability to provide all the necessary protection, and it is also considered as an industrial standard. Workers in the industry can use it to prevent chemical hazards. It prevents the inhalation from all sort of damaging substances. The industries that have been ignoring these protective gear are doing injustice to their workers. Workers are an asset to any industry, and their health should matter as a prior concern to the industry owners. Adopting the protection gears not only suffice the prevention needs but also keeps your workers responsible and interested towards their industrial job.