Do you own a chemical manufacturing company? In case you do, then you will need to make sure that your employees are safe from particulates. And for that purpose, you should have a clear idea about the type and concentration of particles in the air and the hazard ratio (HR). You should also be aware of concepts like immediately dangerous to life or health (IDLH) concentration including oxygen deficiency and assigned protection factor(APF) for the type of respirator.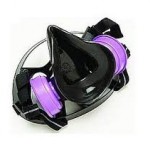 A half-mask respirator is one of the most widely used tools that workers use in chemical factories. It acts as a safeguard against airborne particles and contaminants that can harm or even kill them. As an employer, you need to make sure that there is a respiratory program available at your worksite, apart from providing your staff with the right type of respirator that offers adequate protection.
Here are some steps that you can take to maintain and take care of your half mask respirator:-
Verify the disposable filter cartridges
Normally, filter cartridges come with a type of chemical absorbent to trap contaminants and particles. In any situation, if the user starts to have breathing problems while using the respirator, then the filter cartridge needs to be replaced then and there. If a user starts to taste or smell contaminants present in the air through his mask, he will need to change the filter cartridge at that very instant. If one fails to do so, then he will be breathing in the contaminants that the respirator initially offered protection from.
Check your respirator carefully from time to time
This needs to be done on a regular basis. While inspecting, have a look at the plastic band to ensure that it doesn't lose elasticity. Check whether it has any frays, loose strands or tears. Also, make it a point to check the cartridge housing and threads for cracks to ensure that they are in a perfect working condition. Have a look at the face piece to check for holes, tears, cuts and exhaust valves to ensure that they are not damaged in any way.
Respirator needs to be cleaned daily after use
Make sure that your employees clean their respirators on a daily basis. This includes disinfecting, washing and rinsing followed by drying. If they have any doubt about the process, they could take help from the manufacturer's suggestions. Though some of these respirators can be washed with only warm water, it is always wise to disinfect them with the help of a germicidal detergent. Rinse needs to be done with air and water prior to drying. But it would be best to avoid using a towel with heat as it can damage the half face respirator.
Make fit checking a second habit
A daily habit of fit checking will make sure that the respirator has a good seal. This can be done by putting one's hand on the exhalation valve to cover it, and exhale slowly into the face piece. In case the user finds any air leakage, then he should inform the administrator of his respirator program then and there. It should be fixed, or replaced with a new half face respirator.