Impact Gloves that provide hand protection to Oil Field roughnecks are a needed commodity. Impact Gloves prevent hand injuries that would otherwise happen because of the impact resistant rubber on the back of the hand. Impact gloves that also provide Cut protection to the hand can also be purchased by Texas Safety Supply. Rig Gloves by Lift Safety are a new line of roughneck oilfield gloves sold by Texas Safety Supply. Lift Safety Impact gloves can also be purchased in Bulk prices that afford discounts on larger purchases. Please contact us directly to discuss buying bulk buys of Lift Safety Impact Gloves and other Rig Gloves that we carry. Texas Safety Supply can provide Impact Gloves wholesale type prices on many items in our huge inventories.
Oil Rig Gloves
Rigger GFT-13K by Lift Safety
Rigger GFT-13K is a Roughneck Glove by Lift Safety that provides Cut Level 5 Protection. The Cut protection is in addition to the TPR protection to the back of the hand and the knuckles.  The fiber is a High density HDPE fibre that helps to prevent cuts and abrasions to the hand. Rig Gloves that have a latex Crinkle cut Palm like these Lift Safety Rigger Gloves provide a good grip. The Rough Palm has a better grip in both wet and dry conditions.  These Oil Rig Gloves provide the best protection available to the entire hand at an economical wholesale type price.
Rigger GFC-14K by Lift Safety
The Rigger GFC-14K impact Glove by Lift Safety is Roughneck Glove that provides Cut Protection  and are resistant to Chemicals and Caustic substances. This is unique pair of Impact Gloves by Lift Safety providing some chemical protection that is not typical with Impact Gloves. The palm of these Impact Gloves is a Double dipped Sandy Nitrile. The Sandy nitrile provides both cut protection, and is also helpful in the additional benefit of being resistant to chemicals and caustic substances. These Impact Gloves will have to be replaced less than typical Impact gloves. High Density Cut Protection yarn is used to prevent cuts and abrasions.
Rigger GRS-9HV by Lift Safety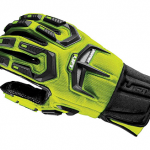 The Rigger GRS-9HV by Lift Safety is a heavy duty Impact glove. Heavy Duty Rig glove that is also ideal for heavy equipment operators. These Impact Gloves provide cut Level 4 protection. The design of these impact gloves is designed with a pre curved grip in the palm for those operating Large equipment, tractor trailers, tow trucks and other heavy duty trucks