Are you running a construction company? In case you do, then your workers must be working on great heights during the construction of buildings. Accidents never come with a prior warning. One of your workers may fall from the top of a building and suffer serious injuries. In order to make sure that such a situation is avoided, you need to ensure that your workers are equipped with the latest types of construction safety products. Fall protection harnesses are specifically meant for this purpose.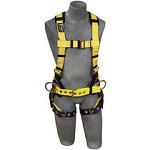 The MSA 10077571 Workman Construction Harness W/Shoulder Pads has been developed keeping in mind the comfort that workers look for. It comes with a durable yellow polyester webbing and lightweight components. Your staff will find it easy to use as it comes with color contrasting thigh and torso straps that can be easily put on and removed. The presence of Qwik-Fit™ or tongue-buckle leg straps makes it easy to adjust. It is also equipped with web retainer collars to maintain the neatness of excess  webbing.  The shoulder pads come with a D-Ring back and hip rings. The product also features tounge buckle leg straps, tool belt and shoulder pads and Qwik Fit Chest Strap.
MSA 10072492 Workman Construction Harness is a perfect combination of quality, comfort and value. It comes with XL size and is equipped with back and hip D-rings. It also features qwik-fit chest strap and tongue buckle leg straps. MSA has made use of yellow polyester webbing to ensure better visibility. Presence of lightweight components will make sure that your workers feel at home while using it in construction sites.
In case you are looking for a corrosion free harness, then you should go for the medium sized  DBA Sala Delta No-Tangle Harness which comes with 1 D-Ring back and 2 Waist D-Rings. Workers can easily adjust the parachute buckle on lower shoulders. It's adjustable non-slip chest strap comes with an easy to use pass through buckle. The DBI Sala no Tangle harness comes with hardware coating to resist corrosion. To ensure a quick, safe and easy connection, the back of the D-Ring is spring loaded. The Delta No Tangle harness has been designed with meticulous precision to ensure easy access.
The requirements of each of your workers will tend to vary depending on their height and built. Therefore, you will need to be very particular when it comes to selecting construction harnesses for each one of them. Once they learn to use this protective item on their own, you won't have to deal with crisis situations caused by mishaps at the construction sites. The workflow won't get affected as a result and the construction of buildings will be completed within the committed time.