Texas Safety Supply is one of the largest distributors of North Respirator Parts. North Safety Respirator Parts are available for same day shipping from Texas Safety Supply. So excellent prices on North Respirator Parts and same day shipping to your door for you North Respirator Parts needs and replacement part requirements.
A schematic follows for ease in identifying the correct respirator replacement part for your North series Respirator;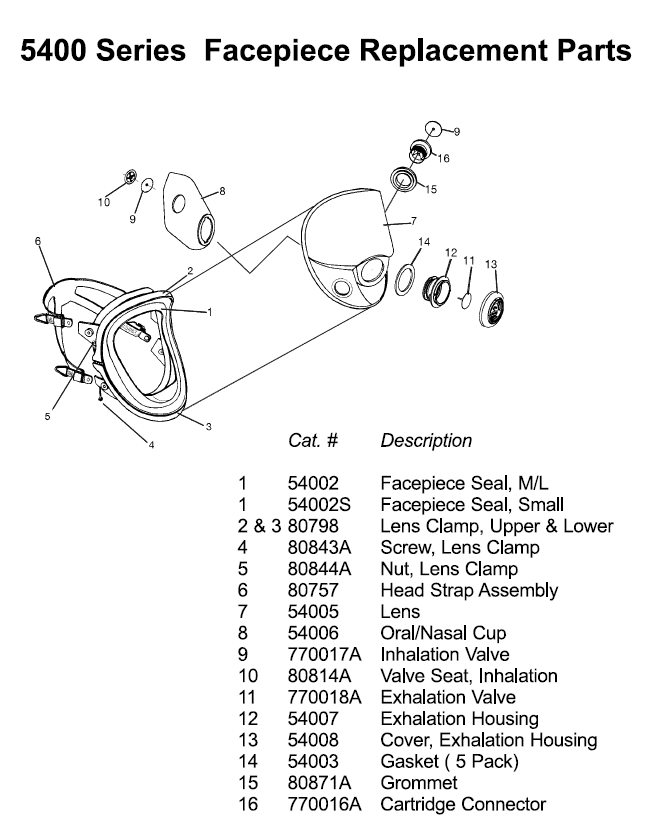 Some of the most common North respirator parts needed are the Headstrap Assembly The North Headstrap 80757 assembly comes complete with all the replacement hardware.
Nasal Gaskets 54003 North Replacement Nasal Gaskets are also stocked for same day shipping and are sold 5 Nasal gaskets 54003 per package.
Nasal Cups 54006 North Safety Nasal Cups 54006 are in stock for same day shipping by Texas safety Supply and are Nasal Cups 54006 are packaged and sold individually.
North Safety Exhalation Valves 770018North Safety Exhalation Valves are available for same day shipping and are sold 4 exhalation valves per pack.
North Safety Inhalation Valves 770017 are a stocked north Safety Replacement respirator part and is available for same day shipping.
Ordering and replacing North Safety Respirator Parts extends the life of your Safety Product investment in North quality respiratory protection. North Respirator Parts can be easily exchanged to prolong the use of your current respirator. Extreme weather conditions can impact the length and usage of your respirator if you are working in either Extreme cold or hot working conditions. Either way, by using the North Respirator Part schematic above it is easy to identify the north Respirator parts in need of replacing and place an order with Texas Safety Supply to extend the life of your current North Respirator. Texas Safety Supply is one of the largest and most reliable suppliers of North Respirator Parts in the Country along with our complete line of North Cartridges and North Filters to be used with your respiratory protection plan.
Save yourself the time and headaches by ordering North Respirator parts from Texas Safety Supply. Other Suppliers List North Respirator Parts but do not stock and ship them the same day. Order and ship from the Responsive, Reliable Texas Safety Supply, your trusted name for North Respirator Replacement Parts.