A classic symbol of the American West, the oil rig and the petroleum industry are integral parts of the American economy, and the oil industry employs thousands of workers all over the country. Many workers require oilfield gloves and other safety equipment to operate specialized equipment.
While some employees work from the safety of the office or boardroom, many thousands of workers help keep the industry thriving through work on wellheads, petroleum pump systems, and refinery operation. According to the United States Department of Labor, oil and gas extraction workers have a rather dangerous job, which means oilfield safety gear is of the utmost importance.
Some of the hazards a worker may come into contact with include the release of hydrogen sulfide, exposure to silica, contact with diesel particulate matter, and hazardous chemicals. There are several hazardous byproducts that are the result of oil and gas drilling, which is why protective gear like safety gloves are essential.
Safety Gear for Oil and Gas Extraction in North Dakota
The flurry of oilfield activity in North Dakota has brought thousands of new workers to the state to take advantage of employment in the industry, but not everyone has arrived as a veteran of the industry. Therefore, it may be necessary to investigate the safety equipment recommended by the Occupational Safety & Health Administration (OSHA) for things like winter oilfield safety gloves.
OSHA keeps a database of standards for safety equipment including standard number 1910.138 which defines personal protective equipment for oilfield safety gloves. The standard requires that employers need to select appropriate hand protection when the hands of employees may come into contact with harmful substances.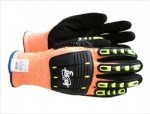 Some of the injuries possible when gloves aren't utilized include severe cuts, lacerations, and chemical burns. In addition, workers may be in danger of thermal burns and severe abrasions. OSHA requires that the employer purchases gloves based upon an evaluation of how those gloves perform in the expected environment where workers will utilize them.
Some of the variables that may influence glove selection include how long the gloves may be used in normal circumstances, the regular conditions experienced by workers while using the gloves, and likely hazards present during work. It may be beneficial to conduct usage tests with different gloves from Texas Safety Supply to determine which type will suit workers best.
Features of Oilfield Safety Gloves
Each type of oilfield gloves sold by Texas Safety Supply offers features designed to protect the hands in conditions like cold weather while providing flexibility and critical protection. For example, oilfield impact gloves like Winter Impact Resistant FR Oil Field Gloves are built to withstand wear in critical areas like the index finger, palm, and thumb.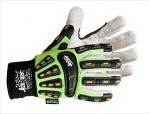 Alternatively, the Joker® Old School Waterproof Cotton Winter Oil Field Gloves feature a breathable lining, and are also waterproof. They're designed for protection in cold weather with a lining of Thinsulate™. In addition to offering protection from common hazards and weather, these cotton oilfield gloves are also designed for comfort in environments that range from hydraulic fracturing to oil and gas drilling.
North Dakota Oilfield Gloves for Hazardous Conditions
North Dakota has seen incredible growth in population from the oil boom. If you're one of the workers relocating to The Peace Garden State, it's important that you understand which oil rig gloves you need if you're planning to work out in the oilfield rather than in a corporate or business office in the petroleum industry.
Likewise, if you're an employer providing gear to a crew, buying oilfield gloves in bulk from Texas Safety Supply may be the most economical way to abide by OSHA's rules. The extreme working conditions of modern oilfields require gloves that help reduce injuries and protect workers employed in hazardous conditions.