Oilfield Coveralls with Embroidered Logo are one way to help promote your Oilfield services Company. Texas Safety Supply provides Professional Embroidery Logo work on FR Coveralls and Flame Resistant Shirts. Our Embroidery partner uses only the finest Flame resistant Thread, flame resistant bobbins and Flame resistant backings to ensure your Custom Logo work is completed in FR materials. Oilfield Coveralls with a Logo look extremely sharp and professional and help set your company apart from others. Oilfield coveralls with a logo also increase pride in the employees for the company that they work.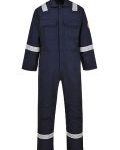 Texas Safety Supply has a large selection of Flame resistant clothing. Texas Safety Supply has partnered with Portwest Safety due to the high quality of their flame resistant clothing. Portwest offers a complete line of Flame resistant shirts including the standard button down flame resistant shirt. We also offer a Cotton Flame resistant t-shirt and a cotton flame resistant Henley shirt. All of these Flame resistant shirts are extremely comfortable to wear. Lightweight yet providing the Needed flame resistant protection. Oilfield Coveralls are also available at Texas Safety Supply. Texas Safety Supply completes the company logo in Flame Resistant thread and backings to ensure the FR quality is maintained. Most customers prefer to complete the FR Oilfield Coveralls logo in FR along with both styles of Flame resistant shirts. Typically customers will purchase the FR89 Flame Resistant Button Down Shirt and add a Logo and then also purchase the FR01 Flame Resistant T-shirt or the FR02 Flame Resistant Cotton Henley T-Shirt. Texas Safety Supply offers many lightweight options for Lightweight Oilfield coveralls for those hot summer days like the Portwest FR94 Oilfield Coveralls.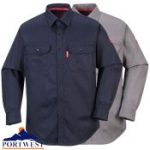 Texas Safety Supply has a large supply of Oilfield clothing and Flame resistant Oilfield Coveralls. A trusted partner is needed when looking for Oilfield Clothing supply and Texas Safety Supply is your partner for Oilfield Safety Supplies. In addition to portwest Oilfield Coveralls Texas Safety Also stocks the Stanco Flame Resistant coveralls as well. Stanco FR Coveralls are available in several colors to meet your organizations FR Clothing supply needs.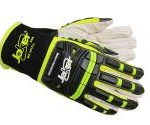 Texas Safety Supply also offers a huge selection of Oilfield Impact Gloves and Cotton Oilfield Gloves. Please call us for wholesale impact glove pricing or to order oilfield impact gloves in Bulk.