Work Rain Gear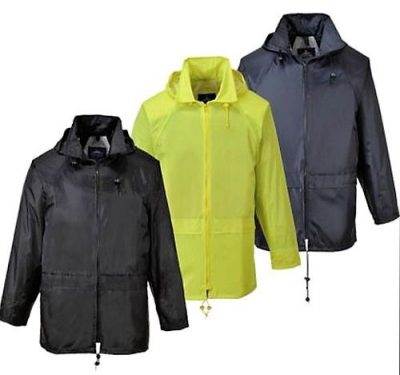 A good rain suit is a friend to those of us who work outdoors from time to time. A nice spring rain or a light mist can feel good to the skin and freshen the soul but a down pour leaves ones clothes soaking wet and pretty mush shuts down an employees efficiencies as all the concentration focuses on the soaked shirt and pants. Plus, OSHA says if the rain is a hazard, then the employer is required to provide each employee with work rain gear. Rain suits, work rain wear is a good investment for employers. Employees will remain dry inside of a Portwest Rain suit and can remain efficient depending on the severity of the Rain storm.  A good rain suit can be purchased for approximately $25 for both a Portwest Rain Coat and Portwest Rain Pants.
Work Rain Suits
Rain Suits must be easy to put on in a hurry because rains can arrive before the weatherman tells us and we can be prepared. An economical Rain Jacket and Work rain suit favorite of mine is the US440 Rain Suit and jacket. The Rain jacket has a generous fit and a nicely vented back for breath-ability and to allow moisture to escape. The Portwest US440 Rain suits consists of both the rain jacket and the matching rain pants for the work place rain suit. The rain suit for work is available in Navy Blue, black and yellow. The Matching pants for the work rain wear suits is the Portwest S441 Work wear rain pants. The seams of this work rain gear clothing are all reinforced with double stitching. The Work gear Rain pants have an elastic waist for easy on and off. These work rain suits are a bargain and are gonna last a long time with just a small amount of care after the Rain stops.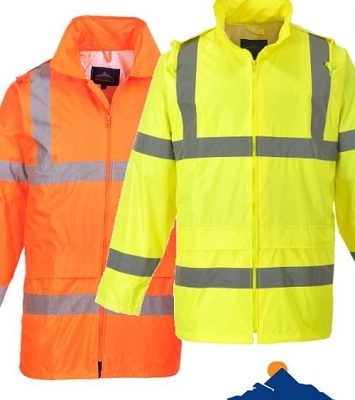 Hi visibilty work rain gear is available with the Portwest UH440 High visibility work rain wear. This is a great Hi Viz rain coat for the work place. A super light weight 6 oz polyester with a very light PVC coating on this work rain wear will keep you warm and dry. Two big pockets up front to carry keys and other "Junk". The hood on this work rain coat can be tucked away if not needed and if this work rain gear gets a little dirty just machine wash cold and hang dry and ready to go clean and dry for the next rain storm!