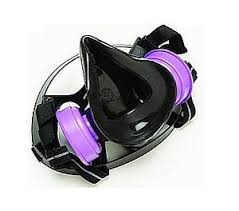 Half face gas masks are often used to protect the respiratory organs rather than the skin. The full face masks serves the purpose of both. In any industrial environments, the workers are constantly exposed to harmful chemicals, gases, air particles and even the life threatening chemical vapors that are generally not visible to the eyes. It should be the self responsibility of the worker to ask for the same from their industrial owners. Industrial owners should also take these concerns very seriously as it is associated with someone's life and well being.
The workers in any chemical or gas industry does the strenuous and tiresome tasks that cannot be done by any normal human being. They require attention in addition to the respect and authorities. While you can do so by making them aware and introduction the usage of half face masks or full face masks and provide them the optimum protection against various respiratory disorders. The respiratory disorders often are not found in the workers as they take place slowly inside the body and when it happens, it may become the life threatening situation.
The departments like police and army are often found to use the same mask when they have to accomplish the tasks in an area that is highly contaminated with harmful gases. While every worker, be it in army or a gas industry should be treated equally, the gas masks are something that they deserve. It is made up of snug fitted opening the fits perfectly into the face. The air flows through the inlet provided in the front while the outlet is designed separately so that the user can experience fresh air. It just does not works as a filter but is constructed using some refined material that is capable to absorb harmful gases and vapors. When the filter feels clogged, the cartridge must be replaced.
The industrial respirators are no different from the general respirator masks. However, they are specially designed for the industrial workers. The professionals should be hired before distributing the masks among the workers. These professionals does the fit and size testing and provide them the appropriate one. If you own an industry and your workers are still exposed to these health hazardous situation, you should take the initiative to correct this critical mistake and keep your workers safe.