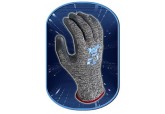 Cut Resistant Gloves
Cut resistant gloves are required in all work situations where the potential exists for cut injury to occur. Workers are capable of performing some physically intensive tasks that a normal person is incapable of doing. They are definitely an asset to the industry, and the industrial owners should take care of their basic protection needs. Cut resistant gloves are efficient in providing necessary protection during the accident or mishandling of machines and tools. Cut resistant gloves possess the tensile strength, and the sharp metallic surface cannot easily penetrate through them. When selecting cut resistant gloves for your workers, you definitely should go for the quality gloves that are the industry standard. Generally, it comes in American and European standard. Let's discuss these rating in brief.
ANSI/ ISEA standards and EN 388 standards
ANSI can also be pronounced as American National Standards Institute while ISEA is International Safety Equipment Association. These standards were cultivated in the year 2000 and revised in the year 2005. Hence, the rating we usually see on the gloves is in the form of ANSI/ISEA 105-2000/2005 or similar. These are standard industrial gloves and are capable of providing protection against heat, abrasion, cold temperatures, flame exposure, punctures and accidental cuts, chemical materials and similar industrial hazards.
The revised edition is more strong and is capable of protecting against harmful radiations too. Cut resistant Gloves are rated generally varies from Level 0-6 while Level 6 being the most protective and strongest. It is not necessary that you should go for the highest rated cut resistant gloves. Instead, you should choose the one which suits best for your industrial purpose. The cut resistant gloves that fall from level 3 to level 6 are considered heavy duty and are particularly designed to deal with the sharp and abrasive industrial situations.
EN 388 standards are also built on the same technology to tackle the harsh situations. However, as per the experts, the ANSI/ISEA is more suitable to heavy duty industrial exposure. EN388 is European standard technology that uses the ranking system of 1-5. One should consult an expert before assigning any of these cut resistance gloves to your workers.
Material used and Construction
The number of workers that suffers hand injuries are quite less than earlier times when these gloves were not in use. However, due to inadequate protection, workers are still facing injuries in the industrial environments. Inferior quality is a compromised decision, and it is very important for the industrial owners to realize this fact. Cut resistant gloves are available in polyester(Level3), nylon(Level3), Dyneema (Level 3-5), Kevlar, Metallic mesh material that has the best resistance(Level 5)