Vibe Impact Gloves are the newest offering from Texas Safety Supply impact Gloves. Texas Safety Supply already has a huge selection of Oilfield Impact gloves and Alpha Gloves Vibe Impact add to our offerings. Vibe Impact Gloves are a quality Impact glove and could soon be listed as some of the Best oilfield impact gloves available. A key feature of Alpha Gloves Vibe Impact Gloves is their great dexterity. The fingers have great touch and ease of movement and touch. A key feature of Vibe Impact Gloves is that they are touch screen compatible. These are unique among other oilfield Impact gloves in the user does not need to remove their Oil Rig Gloves for computer data entry.
Vibe Impact Gloves have superior coverage to the back of the hand. The focus impact areas are well protected with full TPR coverage to prevent crushing and other hand injuries. The Mesh back is a nice feature for hot summer work. Vibe Impact Gloves can be considered as Summer Impact gloves due to the lightweight mesh back of the hand.
The Palm of the Vibe Impact glove is padded with separate pads that allow for ease of hand flexing and holding tools. The palm of the Vibe Impact Gloves helps reduce vibration and kick backs to the hands. The Cuff is Neoprene with an adjustable pull strap that allows the user to adjust these summer impact Gloves for the perfect fit.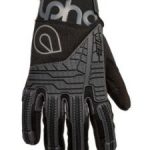 Texas Safety Supply provides oil rigger gloves for the entire country on a 1-2 day delivery time line. Oilfield Gloves are a needed component of any oil Field service companies safety procedures. Roughneck Oilfield Gloves and Oilfield clothing and safety supplies can always be purchased at Texas Safety Supply at volume prices. Hard Hats with Logos and Oilfield Coveralls with Flame resistant embroidered logos are also available. Please call for pricing.