Winter Impact Gloves
A Large selection of Winter Impact Gloves are available at Texas Safety Supply  winter impact gloves for sale online. Winter impact gloves are needed to meet the needs of Oil Rig crews and staff as colder and wetter temperatures arrive. Texas Safety has large inventories of winter impact gloves that allows Texas Safety Supply to ship same day as ordered. This translates into typical deliveries for winter impact gloves in one to two days. Winter Impact gloves are needed by well servicing employees when temperatures drop. Winter Impact gloves will keep oil rig employees hands safe and protected in cold wet weather. Texas Safety has several very good options for winter oil rig gloves that protect from cold and are also waterproof.
Joker MX217 Winter Impact Gloves
The Joker MX217 winter impact Glove is designed to be used by Oil Rig employees for impact protection during wintertime. The MX217 has a 2mm Thinsulate Liner to protect from cold temperatures. The Joker MX217 Winter Oil Rig Glove also has a breathable waterproof liner to protect from rain and snow. The Palm is old school with a strong durable cotton cord palm. The MX217 is an excellent choice for waterproof impact gloves.
Portwest A725 Winter Impact Gloves
Portwest A725  Winter Impact glove with 100 grams of Insultex Lining. Insultex is a material that is similar to Thinsulate that provides protection from cold temperatures. The Portwest A725 Winter Impact Glove palm is pvc dotted providing a better grip and handling than some other winter impact gloves. The Portwest A725 is a very Good Cold weather impact glove. Please call for impact glove bulk pricing.
Liberty Glove 950 Winter Impact Glove
Liberty Glove 950 Striker X Waterproof Winter Impact Glove
Liberty Glove 950 Striker X Waterproof Winter Impact Gloves have 3M C40 Thinsulate to ensure protection from the cold for Oil rig employees. Liberty Glove Striker X Winter Impact Gloves have a top of the line waterproof liner that is made by Raotex to ensure that these waterproof impact gloves stay that way. The materials that go into the Liberty 950 Winter Impact Glove have it an exceptional choice to keep oil riggers hands warm and dry.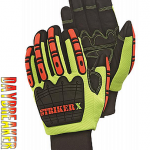 Joker MX211 Winter Oil Rig Gloves
The Joker MX211 Winter Oil Rig glove can be purchased from Texas Safety Supply at an economical price. Joker MX211 winter oil rig gloves have 2MM of Thinsulate and a waterproof liner, that means that oil rig employees hands will stay warm and dry. These Winter Oil rig gloves can be purchased at volume and bulk prices on winter oil rig gloves.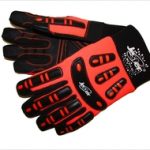 Joker MX1187 Winter Oil Rig Gloves
The Joker MX1187 Winter Oil Rig Gloves are an economical choice for a winter oil rig gloves with a 10 gauge acrylic liner. These winter impact gloves are high visibility with a sandy nitrile palm for improved handling when objects may get wet and slippery.
Please call Texas Safety to purchase winter impact gloves and waterproof oil rig gloves or help in selecting the right glove for your needs. Phone 214-762-4530.