FR Oilfield Coveralls are needed by employees of the Oil and Gas Industry. All employees working on oil rigs need Oil Field Work Clothes that are Flame Resistant. Texas Safety Supply offers Oilfield FR Clothing at excellent prices and quality. Oilfield Work Clothes keep employees safe from unexpected hazards. Employers are required to supply Flame Resistant Coveralls and Flame resistant Uniforms and Flame resistant work shirts to employees working in the Oil and Gas Industry.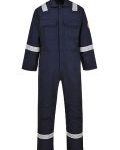 Texas Safety Supply is a Key supplier of Oilfield coveralls and Flame resistant uniforms to our National Customer base. Our Primary Supplier of Oilfield Coveralls is Portwest Safety. Portwest manufacturers several styles and colors of Flame Resistant Oilfield coveralls and Flame Resistant Uniforms and Oilfield work clothes. The majority of customers choose to add Company Logos to their flame resistant oilfield coveralls and their flame resistant uniforms. Texas Safety Supply only uses Flame Resistant thread and backings for Company Logos. The use of Flame resistant Thread on the Oilfield coveralls and flame resistant uniforms does not affect the Flame Resistant properties of the Oilfield work clothes. Oilfield Clothing supply is an important decision to make up front as this relationship with your supplier of oilfield work clothing will have a long working relationship.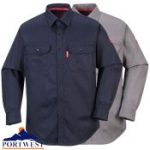 Flame Resistant Uniforms and Oilfield Work Clothes are available in several styles. Flame Resistant work shirts are available in a standard button down oilfield work shirt.  Oilfield work clothes are also available in a Flame resistant t-shirt as well as a Flame Resistant Henley shirt.
If you are looking for Oilfield clothing near me, rest assured Texas Safety Supply is typically just one to two days away for your Oilfield clothing supply needs. Texas Safety Supply ships Flame Resistant Coveralls to Midland Texas and Flame Resistant Coveralls to Odessa Texas for Next day delivery. Please contact us to discuss your Oilfield work clothes, flame resistant uniforms, FR Coveralls and all of your Oilfield Clothing Supply needs,